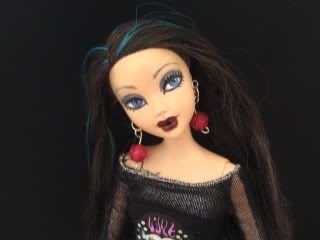 Wow, I've just entered the mysterious world of blogging. I'm boldly going where I have never been before...it's a little scary!
My name is Lisa, I'm 39 and living the good life on the Gold Coast. I have four beautiful kids, 2 guinea pigs, 2 lizards, an axolotyl, a husband and a part time job. Needless to say, I don't find a lot of time to sew. I used to make the girls lots of gorgeous clothes when they were little but stopped when my little bloke started walking...and touching! No sewing machine was safe from him. He likes to press buttons and twirl knobs. But now that he's a little older, I've started sewing again, making the things I love - kids clothing and toys with a *gothic* twist. I also (occasionally) paint OOAK gothic/horror Barbies and dolls. And write in my *spare* time. One day I'm hoping to be hailed as the next J K Rowling!
But until that happens, I'm here plodding along. I've just opened up
my Madeit store
. I'm very excited and I've already been getting quite a bit of interest. I love hearing from people who enjoy my creations.
Hope you stop by again soon.
Lisa.